Bakery – Pastry Notre-Dame
Mamie is delighted to welcome you to her Notre-Dame shop!
Timetables:
Monday: closed
Tuesday – Friday: 8:00 am – 6 pm
Saturday, Sunday: 8:00 am – 5 pm
Monday: Closed
Opening hours subject to change.
Don't hesitate to call before going to the store.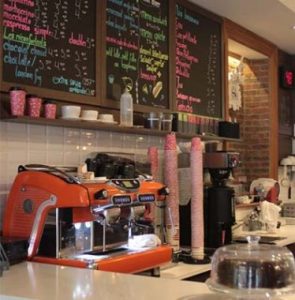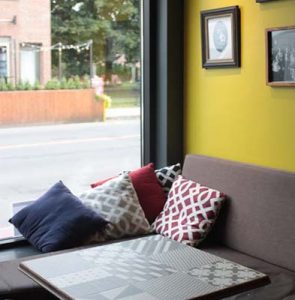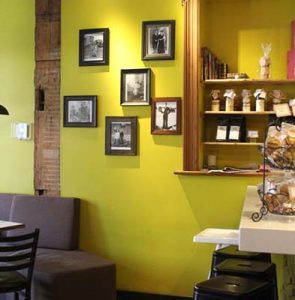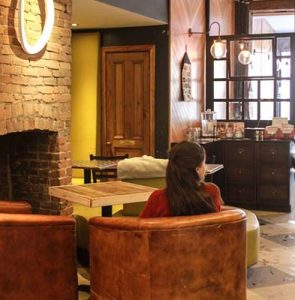 The shop
Since October 2014, Mamie Clafoutis has been established in the Petite Bourgogne district. With its cozy lounge-style tea room, you can fully enjoy Mamie's delicious cakes and breads, in a warm and friendly atmosphere. Brick wall, armchairs, wooden tables, benches… everything is there for you to spend a pleasant time at Mamie's. In 2016, Mamie Clafoutis won the prize for the best baguette of Montreal thanks to our baker in the Notre Dame shop. One more reason to come and taste many of our various bread products! Right in front of the Mamie bakery, is the Sainte-Cunegonde Park, ideal for strolling or to sit and relax on the colorful chairs of the park while savoring one of our freshly baked pastries!
The neighborhood
The Petite Bourgogne district, known for its many antique shops, is marked by its historical industrial past. The area is full of artifacts and places marked by its industrial eras. With the Lachine Canal and the Atwater Market, the neighborhood is ideal for a walk! There is nothing like a stroll on the slopes along the canal to discover the splendid views, followed by a trip to the market to purchase fresh local products! You will find many parks in the area such as the Park of St. Cunegonde, the Vine Park or the Stelco park with steel-base artifact sculptures from the ancient Steel Company of Canada. In the center of la Petite Bourgogne you will find the street Notre-Dame, the commercial street of the district. Cafes, restaurants, theater, bars, antique shops and modern boutiques, there is surely something for everyone's taste!