Mamie is delighted to welcome you to her Gouin shop!
Monday – Saturday : 9 am – 6 pm
Sunday : 9 am – 5 pm
Public holidays : 9 am – 5 pm

The store will be closed on December 25, 26, 27 and 28, 2023 as well as January 1 and 2, 2024.
Opening hours subject to change.
Don't hesitate to call before going to the store.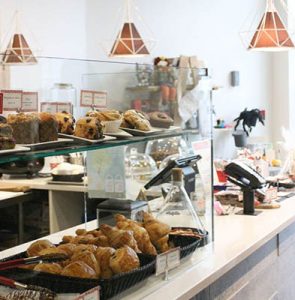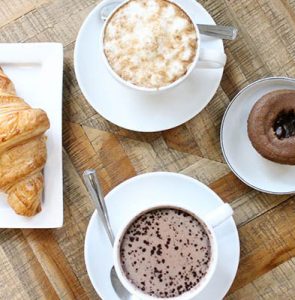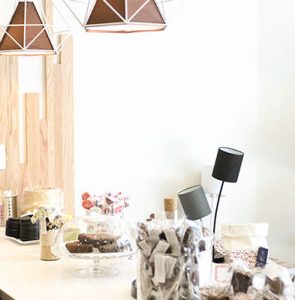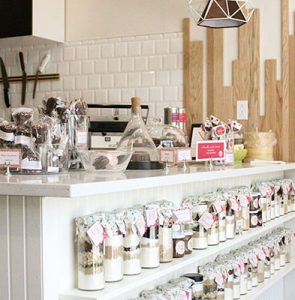 The shop 
What's better than Mamie's products to accompany your walks? 
Coffees, teas, viennoiseries, pastries… there is a little something for every taste bud! Mamie decided to settle in the Gouin neighborhood offering a counter display with a variety of products to satisfy your 
sweet desires, whether it be onsite in its bright and pleasant tea room, or to take away, Mamie's products will delight you. Mamie's counter is located on a street corner where there used to be a large hotel during the beginning of the century, welcoming the tourists who came to enjoy a holiday on the water front. The current bus terminal located in front of the shop was the last stop for the tramway. Also, until the 80's, a few steps from the Belmont Park store, there was a very large amusement park which now has been replaced by LaRonde. This site today is a large green space on the waterfront, named the Belmont Park. 
The neighborhood
Not far from the Rivière des Prairies, the Mamie Clafoutis Gouin counter is in the center of Cartierville.
The Gouin boulevard, almost 50 kilometers in length, which runs along the river is a historic boulevard of the city marked by several eras, found in the architecture of the buildings. Also, this neighborhood is distinguished by its houses, bungalows of the 1960's or by its historical and heritage residences. For example, you will find the house of Drouin-Xenos or the Archbishop's house, two historic buildings dated from the 1700's and 1800's. A perfect area to stroll around and discover the historic mansions of the city while savouring the pastries of Mamie! The Gouin boulevard waterfront allows you to stroll in a quiet and pleasant environment. Bike rides or on foot you will have a breathtaking view of the Rivière des Prairies river.