The leaves change colour and fall, the rain is more and more frequent, the wind cools the days … No doubt autumn is now well established! And with autumn comes every year two important things: the pumpkin season and this holiday, great favorite of children (and adults altogether): Halloween, of course!
To help us get through this season a little gloomier than usually, Mamie has thought of everything with the return of her greatest Halloween classics, but also new recipes around pumpkin.
Through this gluttony, find Mamie's sweet dough shaped in the form of a finger, topped with raspberry jam and a whole almond.
Mamie's famous 3 chocolate cookie transforms into a mummy, disguised with strips of royal icing and white/black chocolate.
To celebrate Halloween as it should, the traditional Mamie's viennese takes the form of a bone, for only a few days. she just adds a touch of vanilla to make it even more irresistible.
Who says new season, says new dress for the famous Mamie loaf. Witch or Jack O'Lantern, don't be afraid to choose the one you prefer!
This year's great novelty, the special feature of this pastry is that the brioche dough is made without butter and only with canola oil. Mamie adds pumpkin puree for even more gluttony.
The traditional chocolate pie is very rare at Mamie… it only stays two weeks in our displays so don't hesitate to devour it with your little monsters.
Mamie revisits its dark chocolate – marshmallow lollipop by transforming it into an adorable little ghost. A horribly delicious snack, Mamie's word!
Pumpkin spices and apple cake
For the Halloween and autumn occasion, Mamie brings out her cake with applesauce and pumpkin puree. Do not hesitate to pair it with a cup of Earl Grey tea for a «So British» snack.
Lighter and airier than pistachio croissants & chocolatine, pistachio brioche is a good compromise for the ones with the munchies, who love this small dry and green fruit.
Mamie returns to ancestral methods with this bread without any industrial yeast and 100% sourdough favorable to a slower and above all natural fermentation. Made with buckwheat flour and its homemade flour mixture, its light brown and dense crumb will make it an ideal bread for lunch.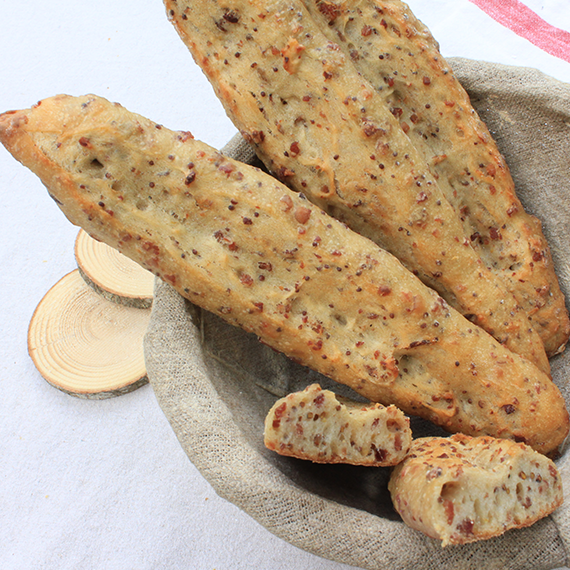 Bacon & old style mustard ficelle
Often softer than Dijon mustard, old style mustard is much more crunchy, giving texture to all culinary preparations. Paired with lightly baked bacon, Mamie has found the perfect combo for your aperitif this fall.
Your Mamie store is closed on Sundays and you don't know how you are going to do without your Sunday pastries? No worries, Mamie has prepared tasty frozen pastries for you and gives you all her tips for cooking them.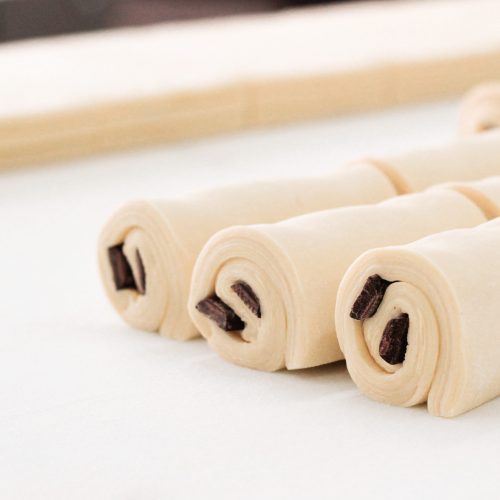 The perfect combination of traditional Mamie's croissant dough, 100% pure butter, and quality dark chocolate.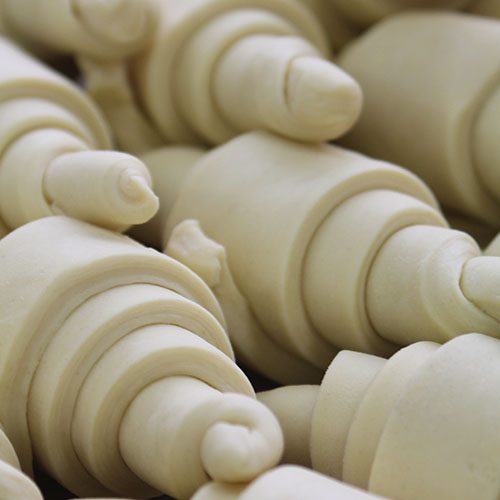 With its airy and crispy puff pastry, Mamie's croissant will perfectly accompany your lunch.