Let's talk about the Maple Syrup
Maple syrup is an iconic Canadian product with origins dating back to Native Americans times. Stemmed from maple cultivation, Quebec is one of the largest producers in the world with more than 74% of production in la belle province. 
Mamie tells you more about this unrefined sugar product! 
Several Native American legends dispute the discovery of maple syrup.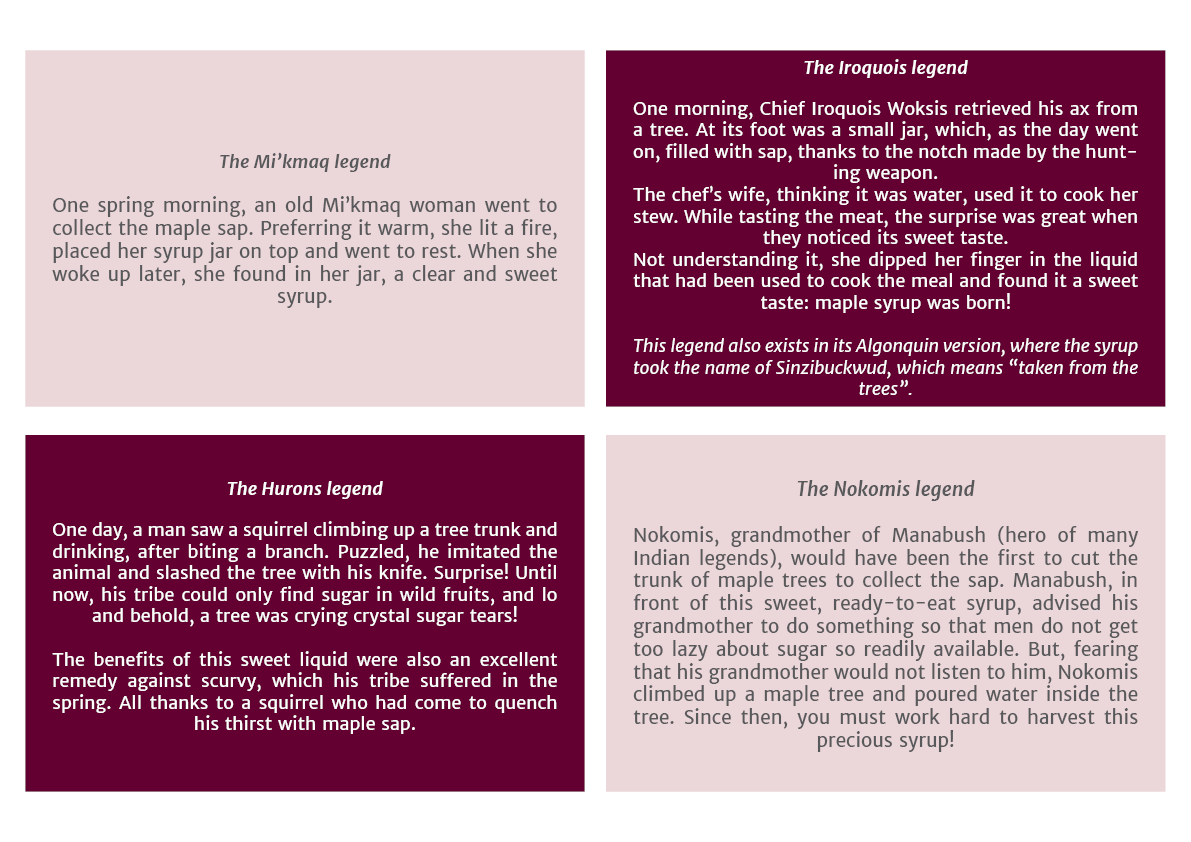 The virtues of maple syrup

 
A great source of antioxidants 
Maple syrup is one of the only sugars to contain antioxidants in significant quantities (3 to 5 times more than honey). A 60 ml has an antioxidant capacity comparable to a part of broccoli. This is due to manganese, which is involved in cellular protection, but also to polyphenols which help reduce the risk of type 2 diabetes, obesity, and cardiovascular disease. 
A natural and allergen-free product 
Made from maple sap only, maple syrup has not undergone any transformation, apart from cooking, and contains no coloring or additives. Quebec maple syrup producers all sign a declaration of non-use of allergens during the manufacturing process, thus guaranteeing a product that can be consumed by all. 
 Less calories than sugar 
Composed of 32% of water and 68% of carbohydrates, maple syrup is much better than traditional sugar. For an equal amount of sugar, the energy value of maple syrup is 1/3 less calories.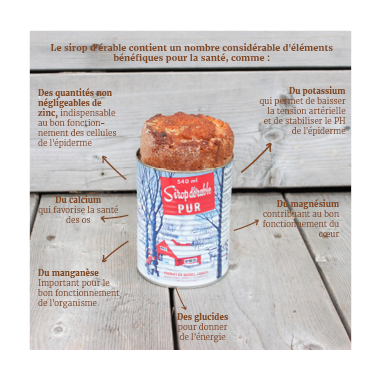 MAMIE'S TIP
It is important to always read the label carefully because the words "maple flavor" do not constitute a guarantee that the product contains maple syrup! Once opened, it is best to put maple syrup in the fridge or even in the freezer to delay evaporation and crystallization. 
What are 

the 

difference

s

 b

etween maple syrup

s

?

 
These many virtues, mentioned above, are obviously found in the 2 main categories of maple syrup. Here are the main characteristics: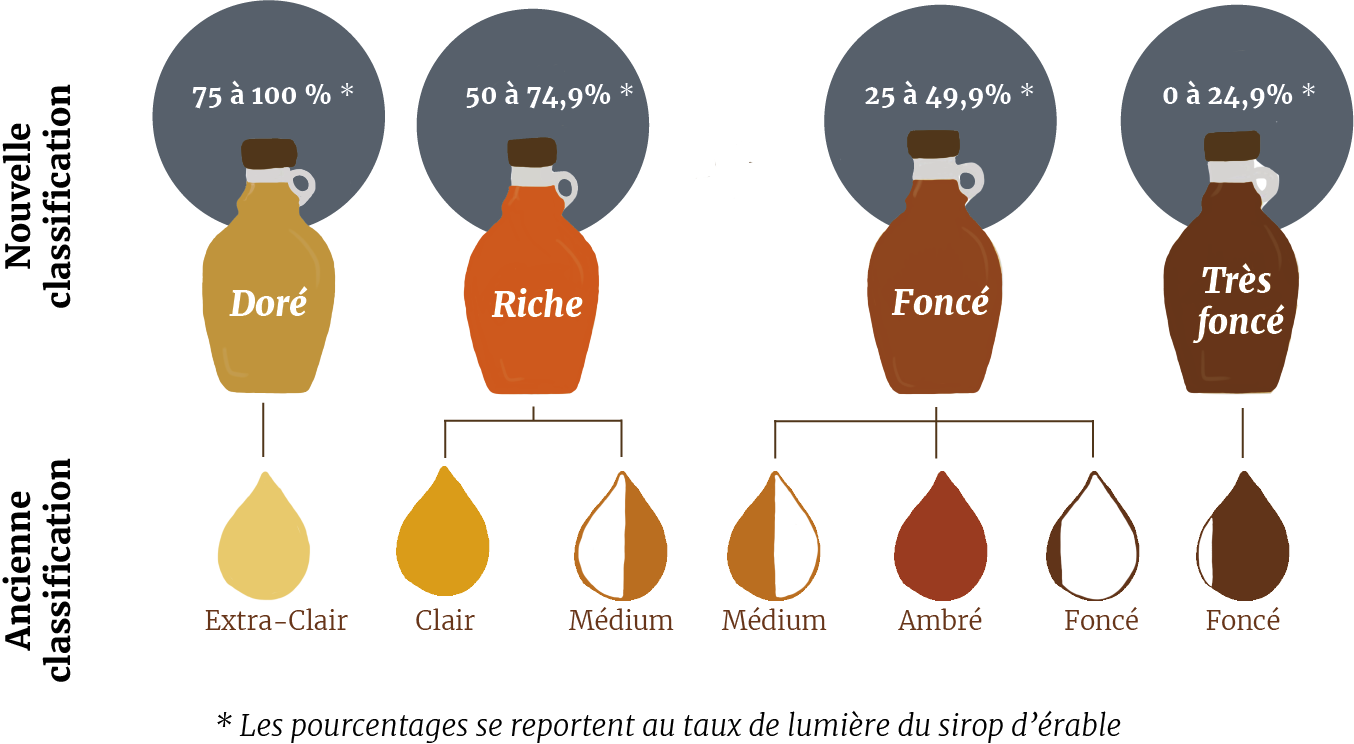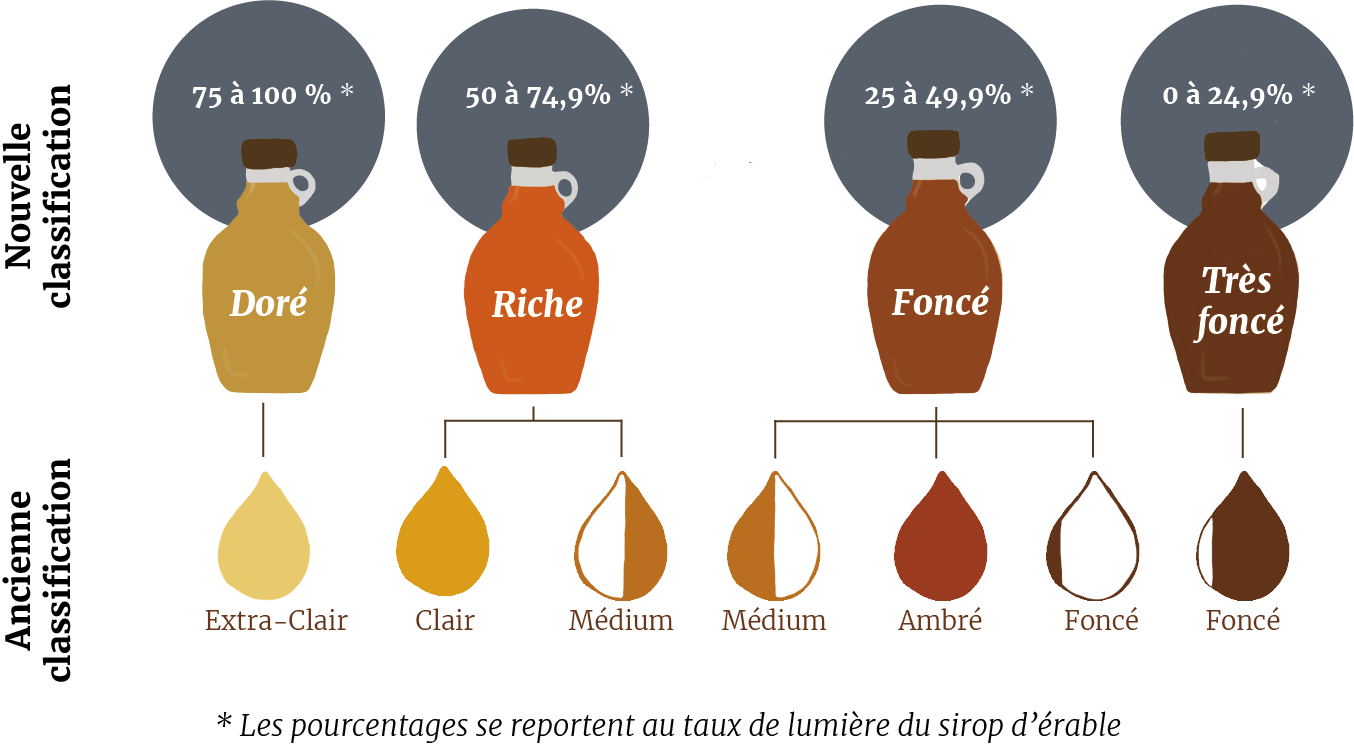 Since December 2017, a new classification has been implemented by the International Maple Syrup Institute for companies who are selling only in Quebec. 
We all know how delicious maple syrup tastes on pancakes, but most of us ignore its beauty benefits. Its antibacterial (like honey), antioxidant and anti-inflammatory properties (thanks to polyphenol), make it the ideal ingredient for healthy skin and preventing aging. 
Gentle exfoliation: maple sugar facilitates exfoliation while allowing the dermis to retain as much water as possible at the top of the skin, making it less abrasive than most of the other "granules" found in scrubs. 
Shiny hair: hydrate your dry, dull hair with the benefits of a maple syrup hair mask. 
The ultimate hydration: after exfoliation, use a maple syrup mask to reduce inflammation of the skin, redness, blemishes, and dryness.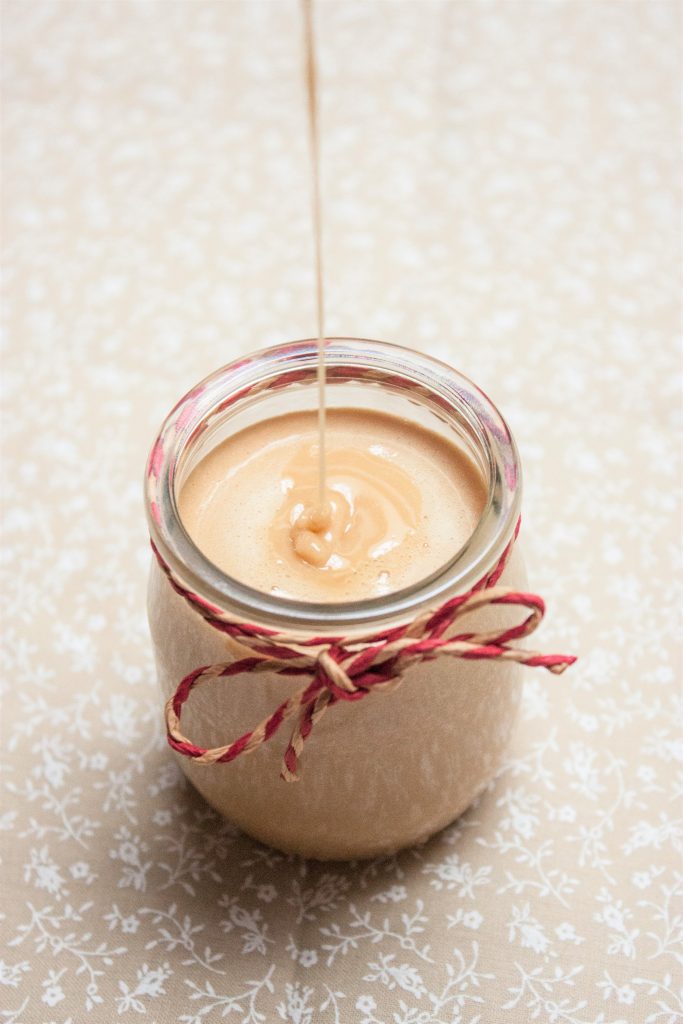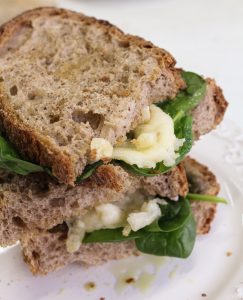 Brie sandwich
with
bacon,
 and caramelized onions 
in
maple syrup
Ingredients – for 4 persons 
– 8 slices of Mamie Clafoutis' milk bread  
– 8 slices of brie  
– 50 gr cooked bacon  
– 2 sliced onions  
– 2 teaspoons of maple syrup  
– 2 tablespoons red wine vinegar 
Preparation 
Start by caramelizing your onions. For this, heat a large skillet over medium heat and sauté the onions in olive oil with salt until soft and golden.  
Add maple syrup, vinegar, and let caramelize. Once cooked, set aside.  
To make the sandwiches, butter the bread on both sides and garnish with onions, brie and bacon.  
Place them in a panini grill, until they are golden and hot. You can serve immediately!